Lagos State Building Control Agency (LASBCA) has deleted a statement it issued on Sunday about the sealing off of Heirs Holdings office in Victoria Island.

In the now-deleted statement, Arc. Gbolahan Owodunni Oki, the general manager of the building control agency, had explained that the building was found to be structurally faulty and dangerous.
Starlitenews reported Oki as saying that the sealing off of the office was to prevent a sudden collapse and to ensure a proper investigation was carried out on it. The statement was posted on the state government's website on Sunday, but when it was checked again on Monday, it was not found.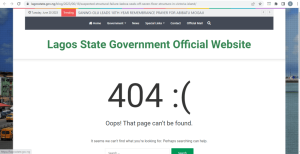 'Error' page on Lagos Government's website
https://starlitenews.com.ng/2023/06/19/lagos-govt-seals-off-elumelus-heirs-holdings-office-over-structural-defects/
Oki had said the building "is suspected to be exhibiting signs of structural failure as preliminary investigations revealed that some floor tiles on the fourth floor have popped off along the expansion joints of the building".
He also alleged that the developer of the building made attempts to cover up the defects "without carrying out proper tests to ascertain" their cause".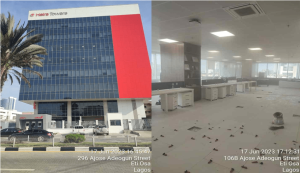 L-R: Front view of office, inside view of the affected area. Source: LASBCA
Heirs Holdings, an investment firm founded by Tony Elumelu, the chairman of the United Bank for Africa (UBA), subsequently rejected Oki's claim.
In a statement dated June 19 and sent by one of its spokesmen, the firm claimed that the structure was built by qualified engineers and that relevant government certifications were obtained before it was opened for occupation.
"We state as a matter of record: Heirs Towers was built by Cappa & D'Alberto and commissioned in 2021. Cappa & D'Alberto is one of Nigeria's leading building contractors. Construction quality was overseen by IAA Associates, leading chartered structural engineers. Prior to occupation, the building received all appropriate certifications from Lagos State and other relevant regulators," said Ifesinachi Okpagu, Heir Holdings' chief marketing officer.
"Heirs Towers has been and is fit for occupancy. Our staff are all at work as normal in the office. Heirs Holdings Group does not compromise on quality, safety, or regulatory matters."
LASBCA had not responded to inquiry as of press time.