The Managing Director of Akmodel Groups, Builder (Dr.) Abdulhakeem Odegade paid a courtesy visit to the Igwe Izuchukwu Okeke Onyeocha of Ezinato Enugwu Agidi community in Anambra State.

During the visit, the M.D of Akmodel Groups introduced the team, staff of the company in Awka branch and other realtors that came Enugu, Lagos, Onitcha while the Igwe also introduced himself and his cabinet members that were around.
The Igwe of Ezinato Agidi expressed joy and happiness at the visit, saying; "It is quite amazing for a Yoruba man to come all the way from Lagos to Igbo land to invest in Anambra State (the most richest state in Igboland) in order to engage and create employment and development in the community for the youths."
Igwe Onyeocha said he was ready to give his support to Akmodel Homes and Properties, to any length in Igboland because he has tested and trusts the brand, he is ready to assist it in all ramifications based on the integrity, commitment and promises kept to clients and the community itself.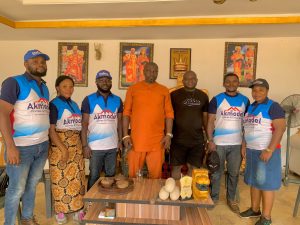 He also advised all other investors to quickly key into all other properties of AKMODEL GROUP not only in Enugwu Agidi but throughout the country, assuring of a peaceful coexistence between the community and investors.
The Igwe also assured the M.D of AKMODEL GROUP of complete support to anyone that invested in their both physically and financially, create a conducive and enabling environment for great Returns on Investment (RoI), also to do more business with the company.
He further encouraged the people to buy lands from Akmodel Homes and Properties as the allocation is fast and prompt.
He prayed together with his cabinet members around for the success of AKMODEL GROUP.
Igwe extended an invitation to the team for the forthcoming Yam Festival event coming sometimes later this month.
On a lighter note, it was discovered that both great men (Igwe and Bldr. (Dr.) Abdulhakeem Odegade are birth month mate of September.
Solin Media