Troops of 192 Battalion of the Nigerian Army operating in 81 Division's area of responsibility intercepted an international ammunition smuggling syndicate, while transporting a truck load of smuggled ammunition to Anambra State on Saturday, July 15, 2023.

The Director of Army Publications Relations, Brigadier General Onyema Nwachukwu, made this known in a statement on Monday, July 17.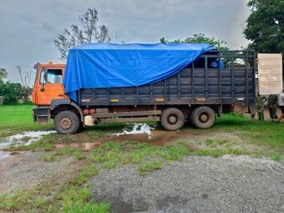 The Intercepted Truck
According to the Army spokesman, the troops, acting on actionable intelligence, conducted a stop-and-search operation along Ajilete-Owode Road in Yewa South Local Government Area of Ogun State, leading to the discovery of illegal ammunition in a truck with registration number ENU 697 XY.
The truck was said to be loaded with 720 packets of Red Star Cartridges of 12 Calibre, containing 25 cartridges per packet, totalling 18,000 cartridges, and an additional 250 packets of live (black) cartridges containing 10 packets each, totalling 2,500 cartridges of same calibre.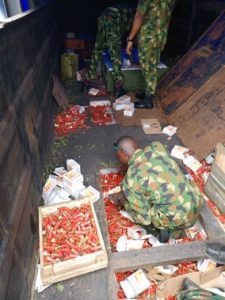 "The suspects, identified as Mr. Eric Seworvor, a Ghanaian national; and the driver, Mr Lukman Sani, have been taken into custody and are helping with ongoing investigations," the Army Public Relations Director stated.
He disclosed that the information gathered during preliminary investigation revealed that the ammunition, which were surreptitiously concealed in a supposed empty truck were imported from Mali, via Idiroko international border, where the criminals had successfully beaten several other checkpoints en-route their final destination in Onitsha, Anambra State.
The illegal ammunition, it was learnt, were intended to be delivered, save for the timely intervention by the vigilant troops which thwarted the disaster the volume of ammunition would have caused on innocent members of the public if the criminals had succeeded.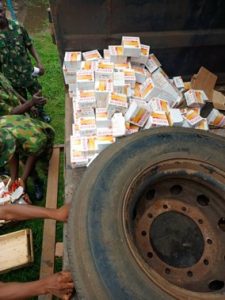 Nwachukwu said: "The Nigerian Army therefore appeals to all law abiding citizens to continue to support the troops and other security agencies with credible and actionable information, as they combat security challenges across the country.
"The Chief of Army Staff, Major General Taoreed Lagbaja has commended the troops for their commitment and urged them not to relent as they strive in synergy with other services and security agencies to provide safe and secure atmosphere for all Nigerians and socio-economic development across the country."