The Institute of Criminology and Strategic Studies Nigeria (ICSS) will on 12th of June honor the Managing Director of Akmodel Homes and Properties, Builder (Dr.) Abdulhakeem Odegade with Grade Of Fellow Of The Institute.

The event which will take place in Lagos State University (LASU) Ojo, is a Democracy Day Lecture Series & Awards Of Excellence, and has its theme as: Enhancing National Security Through The New Democratic Governance: The Role Of The Youths, will have Professor Adeyinka Aderinto of University of Ibadan as Chief Speaker.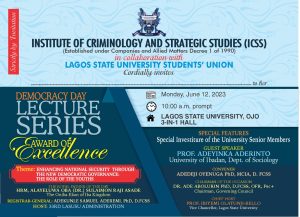 According to the Institute, this peculiar highest grade will be conferred on Bldr. (Dr.) Odegade for his outstanding contribution towards the development and maintenance of peace, crime free society and social stability in his community and the nation in general.
As a fellow of the institute, Builder (Dr.) Abdulhakeem Odegade will be encouraged to use rich professional experience, high network and core competence to impact meaningfully on all members and support general developmental process of the Institute.
The ceremony which will be held in collaboration with Lagos State University Student's Union will also feature amongs other things Special Investiture of the University Senior Members too.