An Estonia slackliner, Jaan Roose, has made a huge statement in Lagos with his daring rope-walking attempt across a bridge and train tracks.

The young man, in pictures and a video shared on social media, made his way to the Onome Rig from Sterling Towers, Marina, Lagos.
The Guinness Record holder's breathtaking slacklining attempt is aimed at getting the perfect Lagos selfie.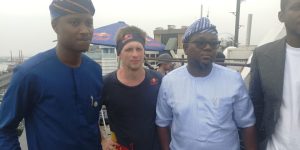 Estonian Jan Roose with the D-G LASEMA Dr Oke Osanyitolu at the Last floor of Sterling Towers before the Slacklining event.
Also present at the event was the Director General, Lagos State Emergency Management Agency (LASEMA), Dr Oluwafemi Oke-Osanyitolu, and para medics, ambulance operators, among others.
— Voice of Nigeria (@voiceofnigeria) November 16, 2023
Some of the onlookers that spoke expressed delight seeing such bravery by the 31-year old Estonian, walking on 66m (217 ft) rope covering a distance of 350 meters.
Mr Ope Banwo, who came in company of his daughter, told NAN that though he enjoyed seeing the sport, it would be hard to see Nigerians getting involved.
"The guy is just doing what he likes, but I don't think any Nigerian will want to try something like that," he said.
His daughter, Fiyimfoluwa, said she was excited seeing the slackliner, Roose, but that the sport was too risky.
For Mrs Atinuke Agoro, she wouldn't try such sport even if she was offered N5 million.
"It is not possible for me to engage in such activity, I won't do it because I have phobia for height, but I love the experience," she said.
Also Mr Isiak Bolakale, who parked his car to observe the performance, said he wouldn't get involved in such sport for any amount.
"I enjoy the show, but I can't be part of it even with N1 billion offer," he said.