In a bid to promote sustainability and combat climate change, the UBA Foundation, the corporate social responsibility arm of the United Bank for Africa (UBA) Plc., has once again demonstrated its commitment to environmental preservation.

Following the footsteps of UBA Plc's Chairman, the foundation has embarked on a remarkable initiative to advance ecological conservation and foster Africa's green revolution.
The 2023 Tree Planting Campaign was officially flagged off in partnership with the Lagos State Parks and Garden Agency (LASPARK) at the UBA Foundation Garden in Marina Lagos and the International Airport Setback Garden in Ikeja Lagos.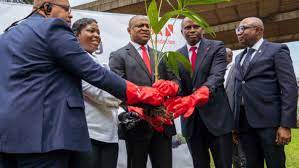 The campaign extends across all UBA locations in the 20 African countries, under the theme "Shades of Hope: One Tree at a Time."
Oliver Alawuba, the Group Managing Director of UBA, inaugurated the campaign with a symbolic tree planting at the UBA Foundation Garden in Marina Lagos.
Alawuba emphasized the bank's active engagement in environmental conservation to safeguard Africa's natural ecosystems. Through partnerships with stakeholders and government agencies, UBA Foundation supports programs aimed at enhancing biodiversity and ecosystem health, setting an example for sustainable practices.
Alawuba stressed the urgency of addressing climate change, citing the ongoing heatwave affecting countries like the United States, United Kingdom, and China. He emphasized the need to act swiftly to preserve the planet for future generations and highlighted tree planting as a significant step in achieving environmental conservation.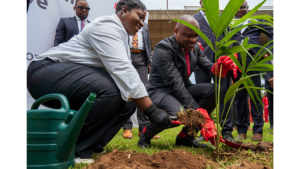 As a bank, UBA is deeply committed to its Corporate Social Responsibilities, allocating one percent of its annual profits to improve education, the environment, and contribute to the welfare of the communities where it operates.
UBA's Group Chairman, Tony Elumelu, who is also the Founder of the Tony Elumelu Foundation, has been actively involved in sustainability efforts in Africa and advocating for equitable climate finance. Elumelu's collaboration with world leaders, including King Charles III of the United Kingdom and US President Joe Biden, underscores the importance of bold actions and innovative partnerships between public, private, and philanthropic entities in combating climate change.
LASPARK, a key partner in UBA Foundation's sustainability efforts, lauded the bank's commitment to planting over 1,000 trees across all its African branches.
General Manager, Mrs. Adetoun Popoola, highlighted the importance of such collaborations in complementing government efforts towards building a safer and sustainable environment.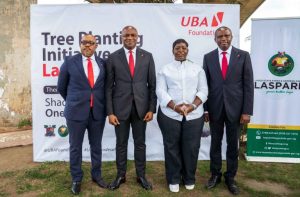 With this ambitious tree planting campaign, UBA Foundation aims to play a significant role in Africa's green revolution and inspire other organizations and individuals to take proactive steps towards environmental preservation and ecological balance. By investing in sustainable practices and actively engaging in initiatives like this, UBA Foundation sets an encouraging example for the corporate world to follow in safeguarding our planet for generations to come.