Builder (Dr.) Abdulhakeem Odegade was singled out of many nominees to be honoured with the Man Of The Year (Real Estate Entrepreneur) Award at the Pride Newspaper Man Of The Year and Excellence Award which took place at The Civic Centre.

This award was given to him for his vast and immense contributions to the existence of Africa's growing economies through real estate development.
https://starlitenews.com.ng/2023/06/24/bldr-dr-odegade-to-be-honoured-with-an-award-by-the-pride-newspape
The theme of the event was – Security and Economic Development: Finding The Nexus In Setting Agenda For New Government and ACG. Chika Eugene Njoku MNI was the speaker.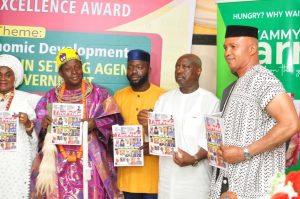 In his speech, ACG. Chika Eugene Njoku MNI said: "Fire can make you rich or poor, depending on how you use it."
Among other awardees are: Dr. Daniel Kolawole Olukoya – Mountain Of Fire, Idris Olubola Musa – Director General/Chief Executive Officer Of National Oil Spill Detection And Response Agency (NOSDRA), VIJU Industries (Nigeria) Limited, Mrs. Janet Bose Mordi – M.D Zekod Farms, AIG Mohammed Ari Ali – Assistant Inspector General Of Police Incharge Of Zone 2, Chief (Dr) Jackie Adunni Kassim MBA, CFIAR, Nari Yunusa Rikoto – Assistant Zonal Director Of The Nigeria Broadcast Sector, CMDT Usman Ishaq Alfadarai Fdc (Lagos NSCDC), ACG. Chika Eugene Njoku MNI., AMB. Cornel Udofia, Founder of the Cornel Media Consult (CMC), Niyi Johnson Omogbenigun, Publisher/CEO Rainbow Magazine and Executive just to mention a few.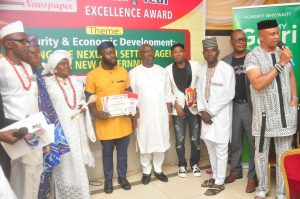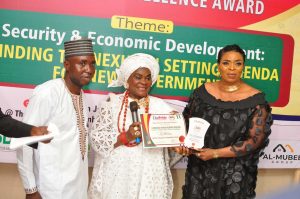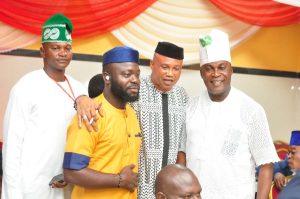 Bldr. (Dr.) Odegade who was accompanied by Favour Benson (Media Consultant), Paul Obazele (Akmodel Brand Ambassador) is a Golden Fish that has no hiding place and is not new in receiving awards and accolades (personally and for Akmodel Brand), he has so many awards to his credit, from different organisations within and outside the shores of Nigeria for his humble contributions towards the betterment of humanity and the society.
He appreciated and thanked the organisers for counting him worthy among many for this award, he said he does not take anyone of the awards for granted and promised to continue doing his best for humanity.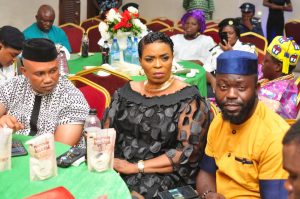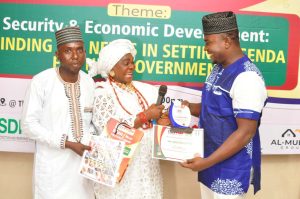 Due to appeals from media practitioners at the gathering concerning the Media and Nollywood Estate, Dr. Odegade had to re-open the Promo and this is to enable interested media practitioners to own a piece of land from that estate at a discounted rate.
Recall that Akmodel M.D unvealed this promo for the Media and Nollywood Practitioners during the company's two years anniversary in November 2022 and the promo had ended in March 2023.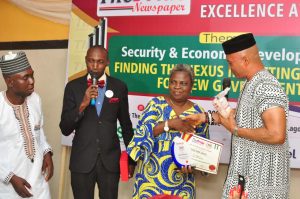 The yearly Man of the Year and Excellence Award is a brainchild of Daily Pride Communication, publishers of City Pride Achievers Magazine/Online, The Pride Newspaper and Crime Busters Int'l Magazine.
SOLIN MEDIA