Renowned Hollywood actor Al Pacino, famous for his roles in movies like Scarface and The Godfather series, is set to become a father again at the age of 83.

His partner, 29-year-old Noor Alfallah, is now in the final stages of her pregnancy and could give birth any day.
This news was confirmed by Pacino's representative.
Pacino, who already has three children from previous relationships, will soon add to his family with Alfallah, who works as a producer in the entertainment industry.
In a previous interview with The New Yorker, Pacino spoke about how his own father's absence in his life influenced his approach to parenting.
He expressed the importance of being present for his children and not repeating his father's mistakes.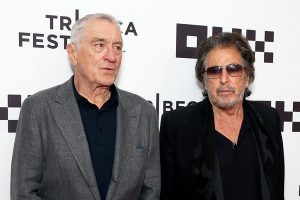 Long-term pals Robert De Niro (L) and Al Pacino (R) both welcomed new children later in life
The announcement of Pacino's upcoming fatherhood has attracted attention and sparked many discussions on social media.
Some fans have expressed their support and congratulations, while others have raised concerns about the significant age difference between Pacino and Alfallah.
Twitter users have shared their varied opinions, with some finding it unusual or inappropriate and others acknowledging the autonomy of the individuals involved.
Pacino's long-time best friend and fellow actor Robert De Niro also recently welcomed a child late in life.
At the age of 79, De Niro revealed in an interview that he had become a father once again.
A Twitter poll discussing the topic gained significant attention and even made its way to morning segments on Fox News – with the results of the poll showing an equal split in preferences between the two actors, with fans passionately defending their choices.
While further details about Pacino and Alfallah's expected child are yet to be revealed, fans eagerly await more information.
This new chapter in Pacino's life continues to captivate the interest and curiosity of both supporters and the general public alike.