MultiChoice Nigeria has announced an increase in its DStv and GOtv subscription rates, citing Nigeria's current economic challenges for increasing its subscription rates.

The new rate which will begin from May 1, 2023, was announced in a text message to its customers.
The text message reads, "Please note that from May 1, your monthly subscription (premium) will be N24,500. To retain your old price of N21,000 for up to 12 months ensure you are active by April 30".
With this development, it is understands that the price on the Compact Plus bouquet will increase from N14,250 monthly N16,600.
Monthly subscription for Compact will increase from N9,000 to N10,500, while subscribers on Confam package will pay N6,200 compared to the previous N5,300.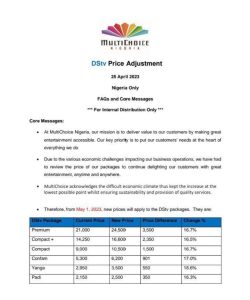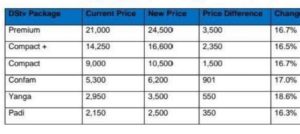 The subscriptions for DStv Yanga and Padi bouquets will rise to N3,500 and N2,500 respectively, as against N2,950 and N2,150.
For Gotv subscribers, the price for Supa package will increase from N5,500 to N6,400, while GOtv Max increases from N4,150 to N4,850.
More so, the subscription for GOtv Jolli package price will increase from N2,800 to N3,300, while the GOtv Jinja and GOtv Lite packages will rise from N1,900 to N2,250; and from N900 to N1,100, respectively.
This is coming barely a year after the Pay TV firm increased its subscriptions rates.
MultiChoice Nigeria Announces New Prices For DSTV And GOtv Packages
In March 2022, the company said the prices were increased due to the rising costs of inflation and business operations in the country.