Leading Pan-African Cement manufacturer, Dangote Cement Plc has expressed commitment to maintaining its partnership with host communities and relevant stakeholders to create enabling environment for sustainable peace and mutual growth of communities within its areas of operations.

Plant Director, Dangote Cement, Ibese Plant, Mr. Hazard Nawabuddin who gave the assurance, said the company would continue to strengthen its relationship with the communities through purposeful social investments focused on socioeconomic development, job creation, job training, education, health and more.
He was speaking through the Plant's Head of Admin and Human Asset Development, Mr. Abu Sufyan during the opening of a workshop with the themed ''Effective Community and Corporate Relationship Management Skills'' organized by Ibese plant for Host Communities' Representatives and Stakeholders in Yewa North and Ewekoro Local Government Areas of Ogun state.
According to him, the workshop is an integral part of the institution building and local content development drive of the cement company's Social Performance, as a socially responsible corporate entity, adding that it will also increase stakeholders' awareness on roles, responsibilities and expectations towards achieving societal and corporate co-existence.
"The skills that will be imparted at the workshop will be helpful not only in the discharge of duties as community representatives, but also in the personal and business lives of the participants. Hence, I implore you all to see this as an opportunity for self-development and a deliberate investment in your growth and well-being by the Company", he stated.
Mr. Nawabuddin expressed the hope that at the end of the workshop, the participants would have been imbued with an enhanced vigour for renewed partnership as everyone would have been better equipped with the expectations, roles and responsibilities of all parties.
He said: "Ultimately, there should be reduced grievances, and elimination of social incidences, protests/crisis, which will create enabling environment for sustainable peace and mutual growth."
The Plant Director then encouraged the participants to cascade the knowledge from the session to other members of their communities and organizations for better understanding and appreciation of roles as such will also galvanize support from the remaining members of the community.
Community Representative Participants who spoke on their expectation from the workshop said the programme would help in giving them fresh perspectives on their roles as representatives and strengthen their capacity to negotiate with the Company and boost the cordial relationship with the company management.
They commended the management of Dangote Cement Plc for organizing the workshop to coincide with the beginning of the year when the Company will be coming up with their various CRS and Social Investment programmes.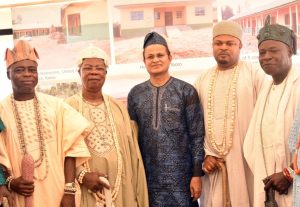 (L-R) HRM, Oba Dr. Daniel Abayomi Salako, Aboro of Iboroland; HRM, Oba Matthew Ayinde Ajibulu, Olu of Onigbedu; Dangote Cement Ibese Plant Director, Azad Nawabuddin; HRM, Oba Rotimi Oluseyi Mulero, Aboro of Ibeseland and HRM, Oba Kayode Adio Kusoro, Olu of Aga Olowo during a recent inauguration of some CSR Community Projects, at the Dangote Cement Ibese Plant, Ogun State