Olamilekan Adebayo also known as Adigun Olowe, is one of the youngest landlords around courtesy of AKMODEL GROUPS.

It is newsworthy to know that he won the Indomie Heroes Award Heros Award with a reward price of N1 million in scholarship and other consolatory prizes.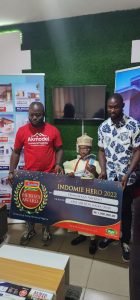 Recall that the M.D/CEO of AKMODEL Groups, Dr. (Builder) Abdulhakeem Odegade awarded him a  plot of land which was officially and truly presented to him in his office.
Olamilekan Adebayo won the Indomie Heroes Award for the South/West zone in the Indomie Independence Day Awards (IIDA) which has come and gone, producing young heroes of Nigeria.
The search exercise seeks to identify, recognize, celebrate, and reward the positive efforts of the Nigerian Child and three exceptional children will be awarded.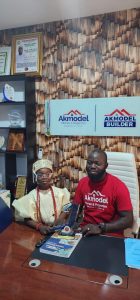 Adigun Olowe's management thought it wise to give honour to whom honour is due and came with him to appreciate Dr. (Bldr.) Odegade.
According to them, AKMODEL Groups is the first company to redeem any promise made to Olamilekan Adebayo, so to them, it is as if it broke a jinx.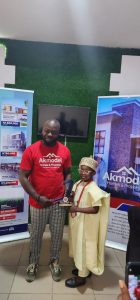 Akmodel MD received and welcomed them while also celebrating Adigun Olowe. He commended their good decision to come, he also said he knew he (Adigun) will go far if he remains steadfast and not lose focus.
He also noted that he didn't do anything extraordinarily but God did a great thing through him, he also said that "there is always a reward for doing good."
He congratulated him for this win and pray for more wins for him too.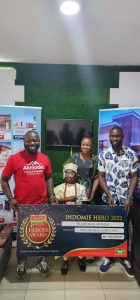 Collated By: SOLIN MEDIA