Desmond Adamson and his newly wedded wife Blessing took Nigerians by surprise after they showed up at the Labour Party rally in Abuja minutes after pledging their wedding vows.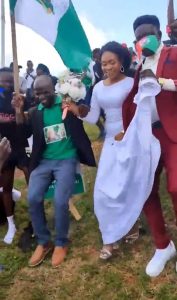 In a trending video on social media, they attracted a huge applause following their appearance at the Obidient Movement rally in Abuja, on Saturday.
The couple who were said to be heading home from the venue of their wedding, stopped and joined the rally along with the groomsmen and bridesmaids to the admiration of the Obidients as they are better known.